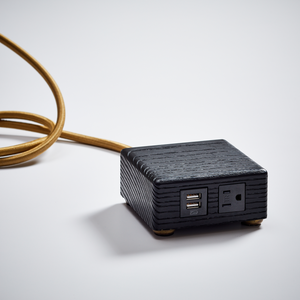 108" cord
---
If in-stock, available for curbside pickup same day.
---
Multiple delivery options and Toronto warehouse pickup available.

In-stock now and available for immediate in-store pick-up

Inspired by a centuries-old Japanese approach to preserving wood, Sugi avoids charring in favour of an intense staining technique. Cut from a single block of cedar, its wraparound wood grain is offset by handmade brass feet and a complementary braided cord. With a built-in 110 simplex and dual USB charging, this one has what it takes to keep tech satisfied.