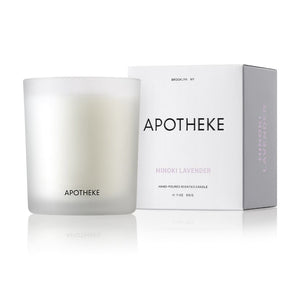 W3.6" x D3.6" x H4.5"
---
If in-stock, available for curbside pickup same day.
---
Multiple delivery options and Toronto warehouse pickup available.

In-stock now and available for immediate in-store pick-up.

Our signature frosted glass candle fills your room with rich, smoky notes of Hinoki cypress and fresh lavender melding with lotus flower and sandalwood to create an earthy, soothing fragrance.
Estimated Burn Time: 

 

60-70 hours
Hand poured in Brooklyn