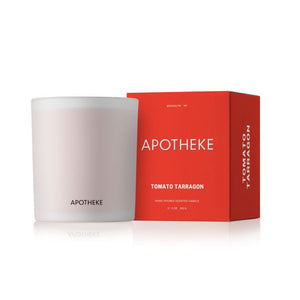 4.5" H x 5.25" W
---
If in-stock, available for curbside pickup same day.
---
Multiple delivery options and Toronto warehouse pickup available.

In-stock now and available for immediate in-store pick-up.

The aroma of freshly picked tomatoes, with hints of tarragon and a zest of orange. Apotheke candles are hand-poured with perfume-grade fragrance oils and a high quality soy wax blend.  Each scent is formulated with a unique wick, wax, and fragrance combination to create a strong and clean burn.
Estimated Burn Time: 

 

60-70 hours
Hand poured in Brooklyn